Herbs are very effective for a healthy sex life and for curing all diseases. In this sense, herbal teas that increase fertility are often preferred by women who wish to conceive. Because the benefits of herbal teas on fertility are too important to be underestimated. These advantages; Supporting the production of more eggs and sperm by positively affecting hormones, instilling confidence in couples trying to have babies, helping them overcome mental and emotional issues, and contributing to acidic vaginal pH from the outside.
Female infertility can be caused by many gynecological disorders or dysfunctions: endometriosis, anovulation (absence of ovulation), uterine polyps, uterine fibroids, miscarriages, blocked tubes, obesity, ovarian cysts, stress, excessive alcohol consumption. ..
For each of the causes of female infertility mentioned above, we offer specific natural treatment. This is the secret to curing female infertility. However, it is essential that you consult a gynecologist or have had a fertility check-up to know the main cause of your infertility. Our treatment for female infertility depends on the origin of the disease. The composition of the natural remedy will therefore depend on the cause of female infertility. Our natural treatments are only made from plants whose effectiveness is scientifically proven. So this is the best natural remedy for female infertility made with herbal remedies. They are the miracle solution to cure virtually all forms of female infertility.
TO DISCOVER OUR PRODUCT FOR FEMALE INFERTILITY CLICK HERE
We deliver all over the world.
For more information, you can contact our experts on +229 51374202 direct line or by whatsapp at the same number.
READ ALSO ... INTERESTING FOODS TO BOOSTER FERTILITY IN WOMEN
1. Ginseng
Ginseng, which is used to increase the number and quality of sperm in general, is also very effective on female reproductive organs. It increases fertility, but should be used with great caution. Using ginseng as a tea will increase its effectiveness.
To prepare ginseng tea, thinly slice the ginseng root. (4-5 slices) Add the ginseng slices to the boiling water and let steep for 5 minutes. You can then strain and drink. Ginseng tea should not be consumed more than 1 or 2 glasses per day. Also, if you are suffering from high blood pressure, heart problems, or upset stomach, you should definitely see a doctor to use ginseng. Because sometimes the damage can be more than the benefits.
2. Fresh ginger tea
Ginger is another herbal remedy that greatly contributes to fertility. It increases the number of sperm in men and helps ovulation in women. To prepare ginger tea, add the ginger to the boiling water and let it steep for 10 minutes. However, the waiting time should not exceed 10 minutes, otherwise the tea will taste bitter. You can add a lemon wedge or sweeten it with honey to avoid bitterness.
3.chamomile tea
Difficulty having a baby is sometimes caused by excessive stress. Stress has a huge impact on hormones, which negatively affects sexual health. First and foremost, couples need to avoid stress and focus on their goals. In this case, consuming chamomile tea helps digestion and relaxes you spiritually.
Infuse a pinch of dried chamomile in a glass of boiling water for 5 minutes. When you use it regularly, you will feel that the stress is reduced and you are relaxed. That way your hormones won't embarrass you and bring you closer to meeting your baby.
4. Fruit in a purple cluster (winter cherry)
The purple cluster fruit, also known as the winter cherry, which is known to be very effective in increasing fertility, should be powdered and mixed with milk or consumed as a tea in order to improve the fertility. However, to consume this tea, at least 1 week must have passed since your menstrual date. If you use it this way, you will further increase your chances of getting pregnant.
Fig Cure to help lay eggs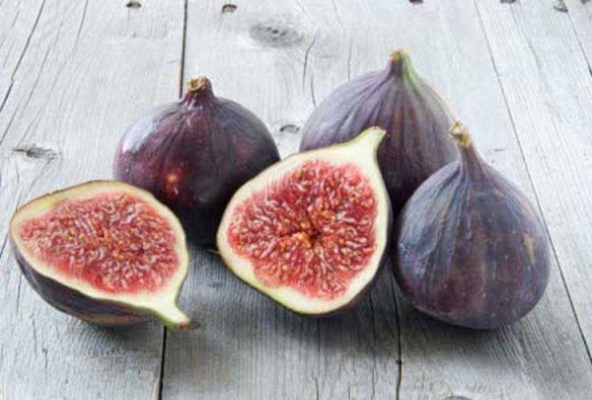 This cure, used to ovulate and increase the number of eggs, is very popular among herbal treatment methods. Although this cure speeds up the production of eggs in the ovaries, it is one of the ideal treatment methods for women whose eggs do not crack.
Ingredients needed for the fig cure:
2.5 cups of boiled water without chlorine
15-20 dried figs
First cut the figs in half and clean the white parts. Put the figs in boiling water and boil for 15 minutes with your mouth closed. After 15 minutes, remove the figs from the heat and let cool for 20 minutes. When the heat is sufficient, filter the figs and divide them into 2-3 equal parts and consume 15 minutes before meals. This cure is applied in 2 periods of 21 days. In other words, after 21 days of treatment, a 7 day break is taken and another 21 days are continued. If the treatment is applied regularly and correctly, it may become possible to considerably increase the chances of pregnancy.
READ ALSO ... NATURAL RECIPE: the use of cloves to get pregnant
TO DISCOVER OUR PRODUCT FOR FEMALE INFERTILITY CLICK HERE
We deliver all over the world.
For more information, you can contact our experts on +229 51374202 direct line or by whatsapp at the same number.